Ahhh…. the Murder Mystery Weekend. Lifesize version of the board game "Clue". Crazy people running from room to room. Screams in the night… Cackling in the corners…
Our company offers suspense- and fun-filled Murder Mystery Weekends and Group Tours where guests assume the roles of suspects, murderers even victims and everyone plays detective. You've always wanted to find out "who dunnit", so come and find out. Maybe it will be you!
For years now, people from all over North America have been coming to Murder Mystery Weekends in southern Vermont and New Hampshire. Guests from as far away as Texas, Louisiana, Florida and California have ventured forth to experience the suspenseful and fun-filled weekends.
When the toy giant Hasbro launched a recent version of their software game "Clue" with a national on-line publicity contest, what did they offer as the Grand Prize? A Murder Mystery Weekend put on by Deadly Fun Events, of course!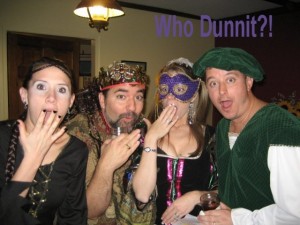 When the town of Brattleboro wanted to develop a day long scavenger hunt based on their local author Archer Mayer and his acclaimed mystery novels, who did they consult with? John B Bailey of Deadly Fun Events. And what was their Grand Prize? A Murder Mystery Weekend put on by Deadly Fun Events, of course!
So come find out what over 5000 people have already discovered ~ Death can be hilarious!
And the Murder Mystery Weekends facilitated by John Bailey of Deadly Fun Events are simply TO DIE FOR!
The Mystery weekend, run by John Bailey, of Deadly Fun Events, was so much fun!! He really organizes these gatherings so that everyone has a blast, and keeps the event moving along. You can tell he really loves what he does.
~ Tripadvisor Comment – January 2014
[Note: While some may be able to travel long distances to enjoy our Deadly Fun New England Murder Mystery Weekends, to others it just may not be practical. In those cases please don't hesitate to visit the National Murder Mystery Directory of All Things Murder Mystery to find a location near you.