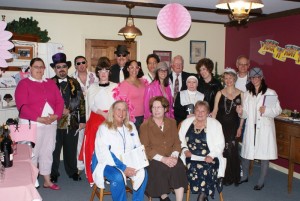 Group Murder Mystery Weekends
Okay...so you want to "off" one of your friends or family members? But you don't want to be the one who does it? Okay, fine.
Here's what you do:
Invite all of your friends or family members to a Group Murder Mystery Weekend and we'll assign one of them to do it. They get blamed and you get the satisfaction of seeing your target meet his or her own sweet demise!
You want to "have it done" on the victim's birthday? Okay, fine. Group Murder Mysteries don't have to occur on one of the scheduled weekends. Just let us know which weekend works for you and we'll work with you to make it happen.
So give us a call or e-mail us and let us take care of the details while someone else "takes care" of the poor victim.